Any company that survives for over 100 years is bound to have plenty of ups and downs.
RadioShack is no exception.
Their constantly evolving storyline leaves many justifiably wondering, is RadioShack still in business?
The short answer is, yes. RadioShack lives on today through Unicomer Group, who purchased the company from Retail Ecommerce Ventures in May 2023. There are currently over 300 store locations across 24 countries and Unicomer has announced plans to reboot the RadioShack website by late 2023, offering 500 new products for sale.
While RadioShack's intellectual property continues to exchange hands, one thing is for certain – following Chapter 11 bankruptcy filings in 2015 and 2017, the iconic electronics brand we once knew that had storefronts covering the United States and much of the world, is dead.
The extent to which Unicomer Group can breathe new life into the company is yet to be seen.
In order to truly understand the scale of the challenge they face, you have to first understand RadioShack's history and the series of decisions that led the company here in the first place…
RadioShack's 100 Year Timeline
Why Did RadioShack Fail?
RadioShack, the iconic electronics brand with store locations that covered the United States for decades, is now a distant memory.
But a company with the history and size of RadioShack doesn't just go bust overnight. Instead, a series of poor management decisions spanning many years and many CEOs led to the company's downfall.
So, what happened to RadioShack?
Lack of Focus and Competitive Forces
In the early days, RadioShack had a clear target demographic – the electronic hobbyist.
But over time, the broader Tandy Corp. business strategy started to pull the organization into a thousand different directions.
Their first big swing came in 1977 in the form of the TRS-80, RadioShack's first mass-produced home computer offering. Thanks to low costs and being among the first to market, the TRS-80 would go on to sell over 200,000 units in the first few years of production.
By 1981, RadioShack owned 40% of the domestic home computer market!
Notably, a year following the TRS-80 release, Charles Tandy the acting CEO of Tandy Corp., unexpectedly passed away.
Lifelong friend and then acting director Philip North would go on to hold the CEO title for a few years, until John Roach stepped in as CEO in 1983.
Roach is rightly viewed as a pioneer in the personal computer field as he was the man who convinced Tandy to mass market a home PC in the first place. But under Roach's leadership, Tandy Corp. went on a decade long spending and acquisition spree.
During his tenure, RadioShack acquired electronic consumer chains VideoConcepts and McDuff Electronics and computer super-store Computer City. They also opened a chain of massive consumer electronic stores called Incredible Universe.
Oh yeah, I almost forgot. In the midst of buying up and launching hundreds of these new concept store locations, they also launched their first mobile phone, the CT-300.
By choosing every path available to them, RadioShack was directionless. And soon it would show.
Hyper focused computer companies like Apple, Dell and IBM began to takeover. By 1991, RadioShack's share of the US PC market had contracted to just 3.5 percent.
Two years later in 1993, all of RadioShack's PC related businesses would be sold off entirely. That same year, they would also sell off their cellphone manufacturing business.
Around the same time, large national electronic competitors like Best Buy, Wal-Mart and Circuit City began to close in.
The result? By the time Roach retired in 1999, VideoConcepts, McDuff Electronics, Computer City and Incredible Universe had all been shutdown or sold.
Once a hobbyist's dream, RadioShack entered the 21st century out hundreds of millions from their failed concept stores and was about to be dealt another devastating blow…
Failure to Adapt to the Online Marketplace
In 1995, eCommerce marketplaces Amazon and eBay officially launched. By the end of the 1990s, everyone else was playing catch up.
And while RadioShack did formerly launch their website, www.RadioShack.com in 1999, the site initially did not allow customers to purchase anything. Instead the site published company press releases and offered a store locator.
Meanwhile competitors like Best Buy and Wal-Mart, started allowing limited online offerings as early as 1998.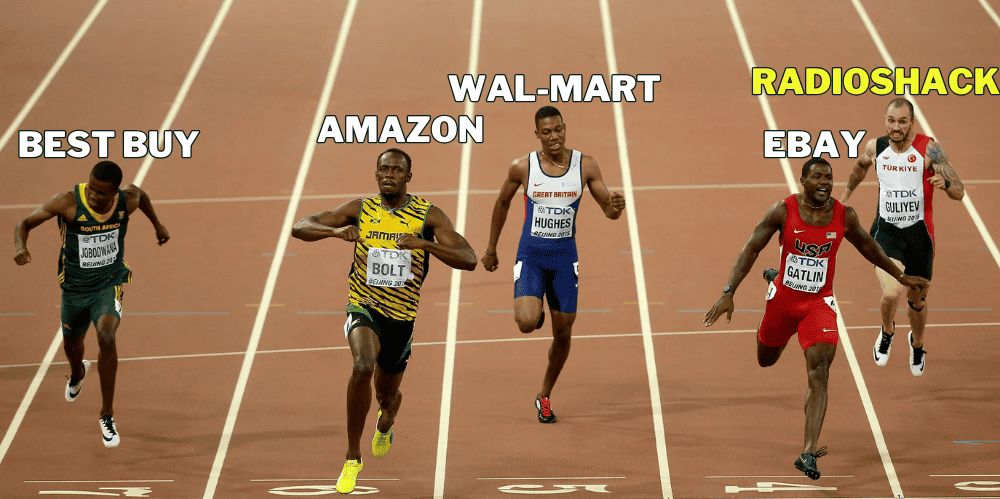 In 2006, the company launched a major eCommerce "Ship-to-Store" initiative that offered free shipping for all orders through the website to a customer's neighborhood RadioShack location.
But the moved was later viewed by many as too little, too late.
As online shopping continued to accelerate within the US and globally, RadioShack's 6000+ brick-and-mortar locations quickly turned from assets to liabilities.
Poor and Ever-Changing Leadership
For the first 78 years of RadioShack's existence, the company experienced relative stability at the CEO position.
That all seemed to change towards the end of Leonard Roberts 1999 to 2005 CEO tenure.
Under Roberts, a program was enacted in the Spring of 2004 known as "FIX 1500". The program resulted in a score being ascribed to every store manager across the company, with the intent to identify the weakest 1500 at any given time.
Those allocated to this bottom group were then put on an improvement plan. The stakes? Either increase performance within the allocated timeline, or be demoted. In some cases, fired.
The program was viewed as senior leadership's way to place blame for the company's poor inventory management and staff training, on low-level management.
In 2005, when Roberts retired, David Edmondson took over as CEO. But his appointment didn't last long. It was quickly discovered that Edmonson had lied on his resume about his education history. As a result of the scandal, he would step down in 2006, after holding the title for less than a year.
Roberts, who had helped appoint Edmondson, would later tell reporters:
"When our company's credibility becomes based on a single individual, it is time for a change. One of the most important things we have as a corporation is integrity and trust. We have to restore that back to the company."

– Norris, Floyd. "RadioShack Chief Resigns after Lying." The New York Times, 21 Feb. 2006, www.nytimes.com/2006/02/21/business/radioshack-chief-resigns-after-lying.html. Accessed 7 Sept. 2023.
That same year, Claire Bobrowski was named interim CEO starting in February, until Julian Day was elected CEO in July.
A month following Day's appointment in August 2006, a total of 400 RadioShack employees found out they were fired via email. That's right – laid off by an email.
Needless to say, any positive company culture that remained had been completely fractured by this point.
Day, known for helping restructure Safeway, Kmart, and Sears, came in swinging and slashing.
With a singular focus on the bottom-line, stores where closed, employees were let go and overhead expenses across the board were ruthlessly stripped down to the bare essentials.
Early signs for a turnaround from a numbers perspective looked favorable. Net income in 2006 when he stepped in was $73 million. Just a year later in 2007, it was $237 million.
But it soon became clear that Day had stripped the soul out of the company.
He would ultimately step down in 2011 without ever besting his 2007 financials. By never figuring out how to create sustainable growth for RadioShack, he handed over a ticking time bomb.
The years that followed reassembled a game of CEO musical chairs that ended in not one, but two Chapter 11 bankruptcy filings in 2015 and 2017.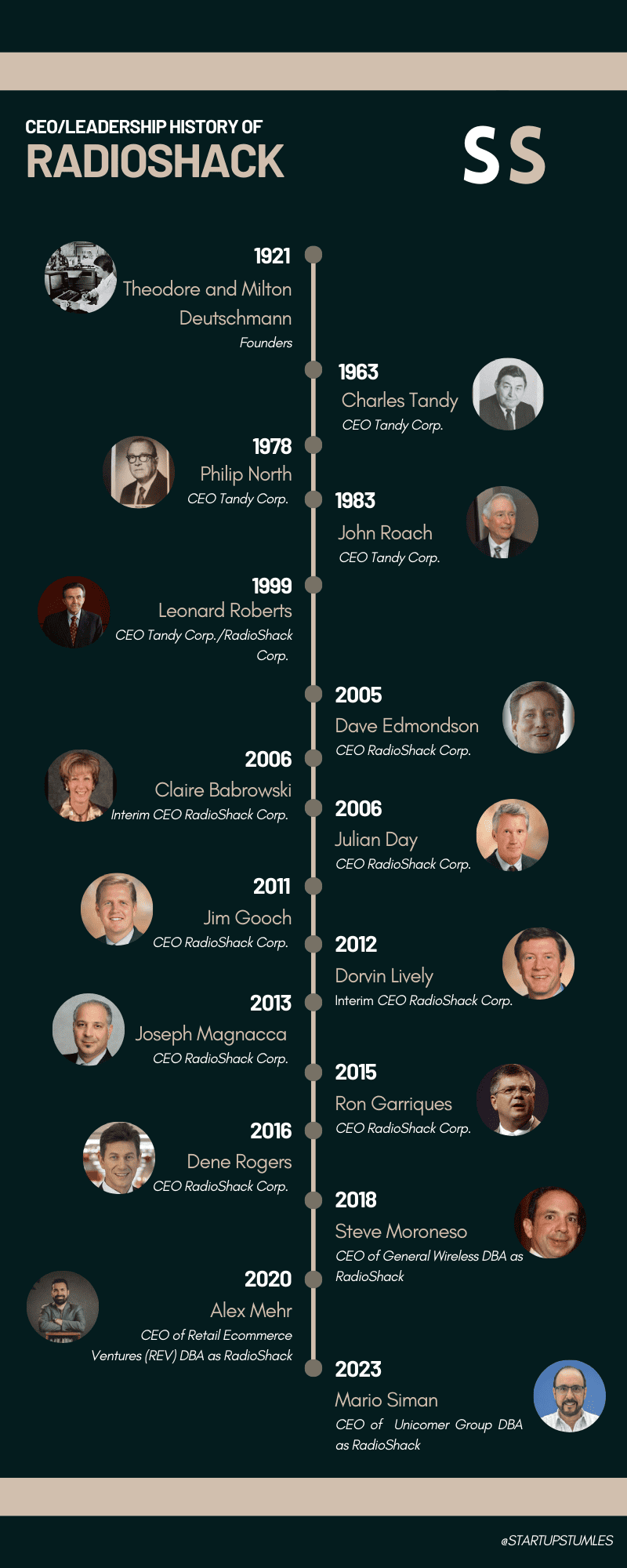 With new leadership also came an onslaught of failed rebranding attempts over the years.
From the "You've Got Questions, We've Got Answers" slogan in 1994, "The Shack" in 2009, "Let's Play" in early 2013, replaced 8 months later by "It Can Be Done, When We Do It Together" in late 2013 – leadership managed to continuously confuse their customer base at every turn.
RadioShack not only lacked direction, they now officially lacked an identity.
Thinning Mobile Margins
The one long-term, strategic direction the company finally hitched their wagon to turned out to be attached to the wrong horse…cellphones.
Of all the business decisions made by the revolving door of leadership, perhaps the worst decision of all was going all in on mobile partnerships.
RadioShack initially entered the cellphone game with the release of the CT-300 in 1988. But as the competition for mobile devices rapidly escalated, they decided to sell off their internal manufacturing business in 1993.
The writing was on the wall though, and it was clear that the mobile services industry wasn't going anywhere. If RadioShack had one clear goal heading into the 2000s, it was to become the mobility leader.
They were no longer manufacturing devices of their own, but that didn't mean they couldn't pursue distribution partnerships with leading mobile brands.
And boy did they ever…
2000 – Verizon partnership allowing RadioShack to sell Verizon cellular services, resulting in store-within-a-store roll out.
2005 – Long-term partnerships with Sprint PCS and Cingular Wireless announced.
2009 – T-Mobile partnership announcement. The deal expands RadioShack's post paid wireless options and enables the company to sell select T-Mobile handsets.
2010 – RadioShack starts selling Apple's iPhone 4 for the first time.
2011 – RadioShack drops T-Mobile and initiates a new partnership with Verizon.
2015 – After filing for Chapter 11, RadioShack enters into a store-in-a-store partnership with Sprint.
In 2006, RadioShack disclosed that 35% of their consolidated net sales and operating revenue came from mobile services and products. By 2011, this number had soared to 51.4%.
Overtime though, mobile carriers started to open their own brick and mortar locations, decreasing their reliance on RadioShack's storefront distribution. At the same time, mobile distribution competition, especially on the eCommerce side, was heating up.
And while RadioShack enjoyed annual net sales and operating revenue above $4 billion every single year from 2000 to 2011, thinning mobile margins started to erode profitability in a devastating way.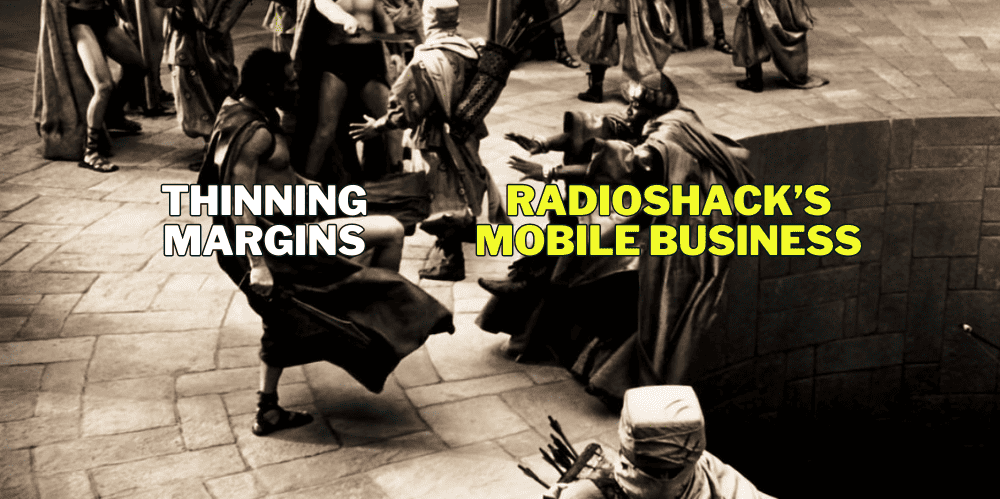 From 2010 to 2011, net income dropped 65%, from $206.1 to $72.2 million. By 2012 the company was hemorrhaging. Net sales and revenue were down and RadioShack suffered a net income loss of $139.4 million. This ballooned to a $392 million loss a year later in 2013.
As it turned out, mobile distributors were all in a race to the bottom and RadioShack was at the front of the pack.
Latest Developments
Following RadioShack's second Chapter 11 filing in 2017, Alex Mehr and well known YouTube marketer Tai Lopez assumed ownership in 2020 under their umbrella corporation, Retail Ecommerce Ventures, LLC (REV).
REV's stated business model is to take failing iconic brands, and revitalize them through an eCommerce rebirth.
But, following REV's sketchy issuance of a cryptocurrency token referred to as '$RADIO' in 2021 and a raunchy Twitter takeover in 2022, the pair only further zombified the RadioShack brand.
REV, reportedly facing potential bankruptcy themselves, sold RadioShack to Unicomer Group in May 2023.
It will be fascinating to see what Unicomer, who has a history running RadioShack franchises in El Salvador as far back as 1998, will do with now 100 year old brand…
…a brand, that in some shape for form, seems destined to live on forever.
Hey, I'm Keith! Since 2011, I've been working for and with startups. More recently, I've founded a few websites and rediscovered my love for storytelling. Startup Stumbles is where I get to fuse these two passions. I hope you'll discover what I have – that failures are often far more informative and interesting than accomplishments.