Imagine you're in college and you and your good friend are looking into the best way to get a ride to an upcoming, off-campus party.
One thing leads to another and before you know it you end up providing transportation for over 800 students in 14 jam-packed buses. By the end of the weekend, you're literally stuffing over $16,000 in cash into your backpacks.
That's exactly what happened to co-founders Adam Boyajian and Mike Parelli when they accidentally started the transportation business, Buses2 while seniors at the University of Connecticut (UConn) back in 2011.
In this interview, Adam breaks down how the company went on to expand to 6 universities across 6 states, quickly growing top line revenue to $150,000. He also reveals how a "grow at all costs" mentality likely ended their ride with Buses2 prematurely and what he and Mike are up to now.
Because my hometown circles intersected with their UConn circles, I've been lucky enough to spend time with both Adam and Mike. They have that rare, but undeniable infectious entrepreneurial energy and on a personal level, it's been a lot fun following their journeys.
Tell Us About Yourself and the Business You Started.
We're Adam Boyajian and Mike Parelli and we are the co-founders of Buses2, a college event transportation company that we started (by accident) in 2011 during our senior year at UConn.
Said in more of our college voices, we took thousands of drunk college students to/from the party so they could have a good time and not have to drive!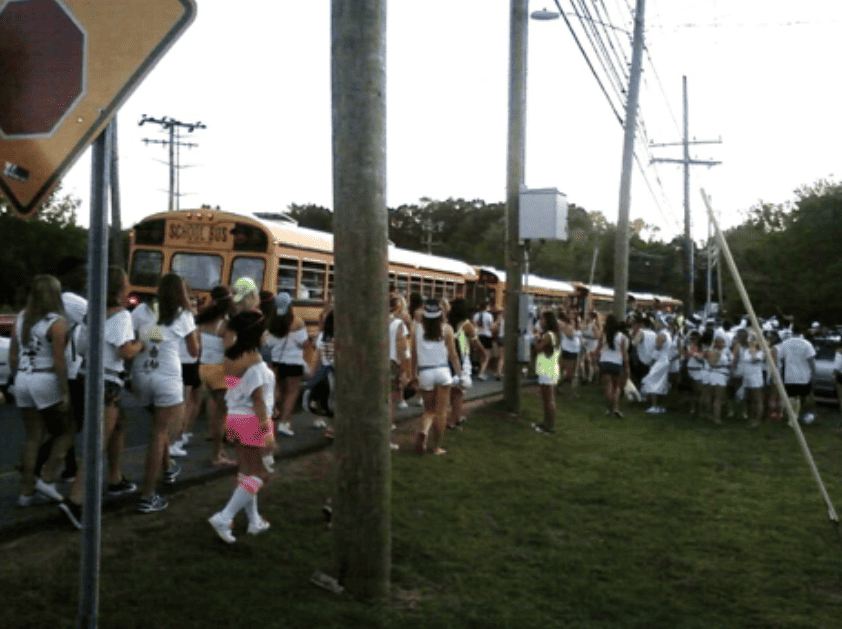 Quick backstory…this wasn't our first venture.
Mike and I met during our freshman year orientation, became fast friends, and quickly realized we shared similar entrepreneurial interests.
Over the course of the next few years, we went from running bar nights and selling t-shirts, to inventing a shot glass with a built-in chaser and patenting headphones that combined earbuds & over-ear headphones into the same product.
Buses2 was special though, because, well, it actually became a real business.
Who or What Inspired You to Start Buses2 and How Did You Land on the Idea ?
We 100% did not set out to build Buses2.
Mike and I and some friends just wanted to get to and from Dayglow, aka "the world's largest paint party", which was coming to Hartford. Since the event was about 40 mins away from UConn, we didn't want anybody to drive.
At this point, we had a decent reach, so word got out pretty quickly when we created a Facebook event "Buses to Dayglow" to coordinate the trip.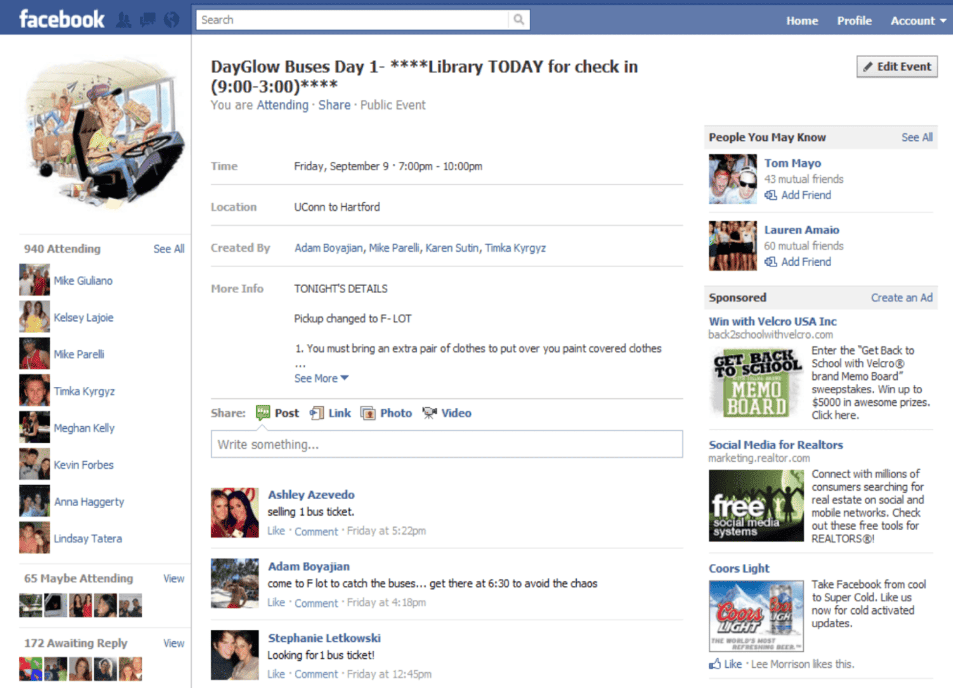 We went from planning on getting a bus or two for 50-100 people, having a good time and breaking even, to selling 823 tickets, filling 14 buses and making $16,000 in cash (literally shoved into our backpacks) in about a week.
The whole experience was pretty wild…
…from running in and out of class to sell tickets in the hallways, booking every single bus from the local school bus company, negotiating with the university to let us do pick-up on campus and realizing we should probably protect ourselves and get people to sign waivers (so having hundreds of students come sign a waiver in person at the library)…
…to working with the state police to shut down roads for loading and unloading, hiring 14 friends to "chaperone" each bus, endless debauchery from college students being college students and capping the night off scrubbing down trashed buses until 2am.
After the dust finally settled from this trip, we quickly realized there was something here.
These large events targeting college students were touring from city to city, and nearly everywhere they went they had to pick venues (1) large enough for thousands of people and (2) far enough from campus to not have to deal with the schools who certainly didn't want to have anything to do with this.
Lyft & Uber weren't a thing yet, many students didn't have cars, and even if they did, nobody wanted to be stuck as the designated driver.
So, pretty much everyone needed a ride and we figured we could try and solve this problem at other schools.
What Was Your Growth Trajectory Like?
Things started to materialize pretty quickly. We saw that Dayglow was going to be at Rutgers in a few months, and Barstool Sports was putting on another event in Hartford around the same time.
We were also the students in charge of Startup Weekend Storrs which was around the corner. So, while we started to build out a plan for how we would try to pull off these next few, we started working on our pitch to get some others on board for Startup Weekend.
We ended up attracting a small team to build a website for selling tickets and a strategy and growth plan for how we would build this business.
Bad news was we ended up getting disqualified because apparently we already had a business vs starting one during the weekend. But good news was we had a better way to sell tickets online, and some engineers who were excited about the idea.
This is also right around when Mike came up with our name "Buses2" (modeled after our "Buses to XYZ event" format, in case that wasn't clear).
We launched tickets to the next two events and they started selling immediately. I remember Mike and I were in a class together when the Rutgers tickets went on sale on the website, and within minutes we had sold 10, 20, 50 tickets!
We were on our laptops in the back of the lecture hall, giddy with excitement, and the professor saw us talking and asked the classic "excuse me, is there something you'd like to share with the class?" to which I'm sure we quickly apologized and shut up (but really wanted to gush about what we were up to).
We somehow pulled off the next two trips, which were equally as outrageous, but a bit more organized on our end. A total of 1,000 riders and $17,000 in revenue at UConn and then 1,100 riders and $20,000 at Rutgers.
Roughly 6 months in and we had reached over $50k in revenue with profit margins around 35-50%. Expenses were primarily subcontracted school buses, drivers and bus staff for the night of the event.
After the first few trips, we started to build the playbook for promoting and executing these events. We grew our relationship with the event tour operators so they would promote our buses and began hiring local teams at schools across the Northeast to run upcoming trips at their respective schools.
We even won a few business plan competitions, got into an accelerator program and decided to give this a go, full-time post graduation.
Over the next ~12 months we expanded to 6 schools in 6 different states, bused thousands more students, started running trips where we weren't even on-site and grew revenue to ~$150k.
Describe the Most Significant Failure, Setback or Stumbling Block You've Faced Along the Path to Growing Buses2.
For us, the most significant challenge was trying to force Buses2 down the high-growth startup path. We were completely surrounded by a singular narrative at the time – "go big or go home".
How quickly can you scale? What would it take to 10x this business? How can you make this VC fundable?
Whether it was in the news, the organizations we were a part of, or the words of advisors, the story was pretty much the same…go big or go home!
We didn't know any better, so just a few months into it, we were trying to answer these questions and find a way that Buses2 could be a scalable high-growth startup.
"Instead of trying to build a solid, profitable business, or even just ride the trend while it lasted, we were trying to plot a course to the moon. This looked like trying to build novel tech to manage bus trips, identifying other adjacent opportunities that could be more scalable, pitching to investors and validating new potential growth paths."
All of this, instead of focusing on the fundamentals. Like selling more tickets, running more trips, growing to more schools, branching into smaller but more frequent trips for other college orgs and using existing low-cost but sufficient off-the-shelf tech.
It became more about figuring out what business we could be, instead of making the most of the very real business we were.
Now, we also knew that a less high-growth version of Buses2 might have had a shorter potential lifespan (although who knows!), so we could argue that we were also looking for the longer-term opportunity by going big. But that didn't mean there wasn't real value (and money!) to be made in a smaller win.
At this point, our momentum started to slow, growth flatlined, and interest began to fade.
What Steps Did You Take To Overcome the Issue?
Well, unfortunately we didn't come to this conclusion at the time.
We believed the narrative that we were most familiar with and didn't really seriously consider an alternative path. So we started to "go home" and deemed Buses2 to not be worthwhile to continue building.
Though it wasn't a sad ending.
We saw Buses2 to be a fantastic learning experience early in our careers, a great story to tell, and a whole lot of fun. But we definitely left some money (and fun) on the table.
If You Could Only Choose a Single Lesson Learned From This Experience to Pass On to Other Founders, What Would It Be?
Not every business needs to, or should be, a swing-for-the-fences kind of opportunity. Truly explore your options.
"There's a LOT of money, success, and joy to be had swinging for those singles, doubles, and triples."
What Resources Could You and Your Business Not Have Lived Without?
Unfortunately, I don't think we've got much to share for this one!
Our whole operation ran on word documents, excel sheets and our own website for selling tickets.
Outside of those basic tools, we were given a ton of support from some early advisors, mentors, the UConn School of Business and various CT entrepreneurship groups.
What Are You up to Now and Where Do You See Yourself in the Next 3 to 5 Years?
Mike is running a real estate company where he is selling and investing in Greenwich, CT residential and mixed-use real estate. He also started a local food show highlighting the best food spots around Greenwich called "Tell'em Mike Sent You".
Over the next 3-5 years Mike is focused on growing his real estate brokerage and investment portfolio, alongside his show.
This time around he's directly applying the Buses2 lessons learned and treating his real estate business as a lifestyle brand vs trying to go big or go home.
I've stayed close to the startup world over the years and am now overseeing the Western US for Shef, where we're building a marketplace for homemade food (think Etsy, but for local food).
Over the next 3-5 years I'm aiming to help grow Shef into the big business we believe it can be, while getting back into the small business arena on the side, investing in small businesses…
…and maybe we'll dust those hybrid headphones or shot glass inventions off the shelf. 😉
Where Can Stumblers Go to Learn More?
Mike Parelli: www.mikeparelligreenwichrealestate.com
Adam Boyajian: www.linkedin.com/in/adamboyajian
Hey, I'm Keith! Since 2011, I've been working for and with startups. More recently, I've founded a few websites and rediscovered my love for storytelling. Startup Stumbles is where I get to fuse these two passions. I hope you'll discover what I have – that failures are often far more informative and interesting than accomplishments.